Written on 3rd November 2016 by Bethany Chamberlain
The Appointment Group's top 5 exclusive use venues in Europe
Whether you're hosting a product launch or managing a client conference event, exclusive use venues offer an unrivalled level of privacy and intimacy.  As you might expect, TAG Global Events team – one of the leading luxury travel companies and expert corporate travel services provider – has a wealth of experience when it comes to meticulous planning and delivery of exceptional events, and they know exactly which exclusive venue will help you achieve your aims.
Europe is fantastic choice for this kind of occasion – the continent boasts an abundance of possibilities, ranging from exquisite estates to entire Mediterranean villages. Bethany Chamberlain, UK Event Manager at TAG lets us in on her top 5 exclusive use venues from across the continent.
Best for: brand experience events
Castel Monastero, Tuscany, Italy
[gallery size="full" ids="17684,17686,17685"]
Once an 11th-century monastery, Castel Monastero is now a spectacular hotel and grown-up resort located on the edge of a ravine close to Chianti's southernmost wine town, Castelnuovo Berardenga.  In addition to a spectacularly romantic setting, it combines the feel of a traditional Tuscan village with contemporary luxury – the world-class spa is set within two rustic villas, while stunning rooms have a distinct antique-modern look, all 73 of which can be utilised for exclusive use.
Other top-class highlights include local wines, as well as polo and golf facilities – and don't forget about the exhilarating hot air balloon tours that take you high up over gorgeous region.  Meanwhile, two on-site gourmet restaurants serve up traditional Tuscan cuisine with flair, and inventive menus are decided by none other than consultant chef Gordon Ramsay (who also created the cookery classes provided on site). If you're looking to detox, this glorious retreat also offers cleansing boot camps with 'flying yoga'.
Nearest airport: Florence (1 hour)
Best for: staff kick-off and conferences
Ria Park, Algarve, Portugal
[gallery columns="2" size="full" ids="17691,17692"]
Nestled between Quinta do Lago and Vale do Lobo in the Algarve lies the Ria Park resort. It's set in the heart of the luscious Ria Formosa Natural Park and this prime location makes it a peaceful choice amid natural surroundings – complete with views of pine forests and lush gardens. It also boasts great access to golf courses and beaches for guests to enjoy in their free time.
The five-star Ria Park Hotel & Spa houses 175 light and airy rooms decorated in a traditional Mediterranean style, while the four-star Ria Park Garden Hotel has 109 bedrooms – all 284 rooms can be booked out for exclusive use. Thanks to its outstanding MICE facilities – including a 1,100-capacity conference centre and a further seven meeting rooms – this choice works particularly well for large, international conferences. What's more, you can make use of the pretty outdoor areas and wonderfully warm climate by hosting impressive dinners and drinks receptions. This first-class venue is also a popular port of call for sports travel companies, as the extensive capacity is ideal for training sports teams.
Nearest airport: Faro (20 minutes)
Best for: prestigious celebrations 
Cap Estel, Cote D'Azur, France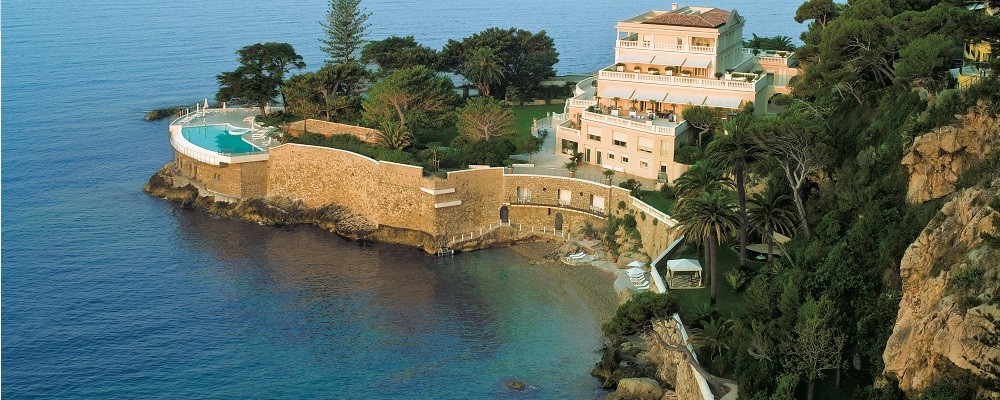 Set within the pleasant greenery of a gated estate, secluded Cap Estel on the French Riviera is a landmark building dating back to 1899. Today, this hotel and its grounds represents a quiet oasis of relaxation. Its exclusive setting – along with a 24-hour security service – makes this a haven of elite celebrity parties and exclusive corporate gatherings organised by the world's best luxury travel companies.
The land surrounding Cap Estel incorporates marvellous gardens with views over the Mediterranean Sea, plus a superb infinity pool that flows delicately into the waters below the cliff – settings for outdoor drinks don't come much better than this. The 18 upscale bedrooms are decisively plush, with a tasteful blend of classic French boutique hotel style and sleek, modern facilities. This is where guests will wake up to the sea breeze and sunshine of the Cote D'Azur after an evening of luxurious celebrations, which are guaranteed to be enhanced by impeccable and discreet service from highly professional staff. This air of extravagance is heightened by the venue's proximity to Monte Carlo and St Tropez.
Nearest airport: Nice (35 minutes)
Nearest heliport: Monaco (10 minutes)
Best for: luxury company reward events
L'Apaga, Megève, France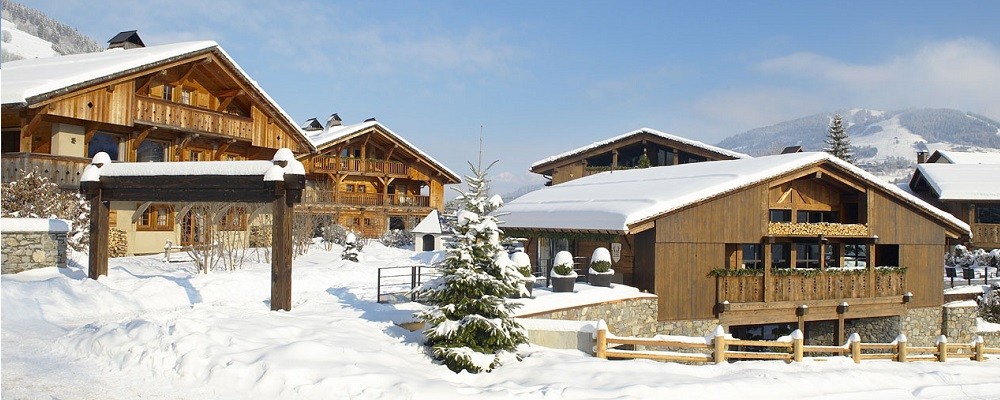 Nestled in the peaks of Mont Blanc, at an altitude of 1,100 metres and a short way from the mountain village of Alpaga, lies the five-star l'Alpaga Hotel Luxe Megève. This Alpine retreat incorporates 22 rustic-chic rooms and suites with balconies and stone bathrooms, as well as five rustic chalets and four apartments – all of which can be hired for exclusive use. As a top corporate travel services company, we know this is the perfect choice for luxury ski company reward events.
Absorb breath-taking views of snow-topped Mont Blanc from the terrace, or hit the slopes at the nearby Megève resort. Wind down in the magnificent dark stone pool, housed within the exclusive wellness centre, or relax in the Scandinavian outdoor hot tub. Furthermore, the Michelin-star La Table de l'Alpaga restaurant is a fine spot for entertaining guests. All in all, this luxury ski resort is sure to make company reward trips unforgettable.
Nearest airport: Geneva (1 hour 30 minutes}
Best for: product launches
Meliá Villaitana, Costa Blanca, Spain
[gallery columns="2" size="full" ids="17690,17689"]
The upscale Meliá Villaitana resort on the Costa Blanca is designed to resemble a traditional Mediterranean village, with its unique architectural style, a network charming streets and picturesque squares. The complex, which comprises 25 individual buildings and an artificial beach, sits between two superb 18-hole golf courses with stunning views of the Gran Bahia.
For large events – including product launches – the Salón Levante is a wise choice. This is the biggest room in the whole of the resort, with an impressive capacity of 1,200 standing, plus a private entrance. If you're holding an automotive event, you're in luck – the vast grounds are well suited to automotive events, as there's plenty of space to park and display cars within the resort, and the surrounding scenery of the Mediterranean hills is a brilliant driving route. As for entertaining your guests, choose one of five different dining areas serving on site including Spanish, Italian and International cuisine.
Nearest airport: Alicante – (40 minutes); Valencia (1 hour)
If you're interested in hiring an exclusive use location in Europe or the UK, get in touch with TAG today – one of the world's top corporate travel services and luxury travel companies. You can reach Bethany or one of our event managers at bethany.chamberlain@appointmentgroup.com, or by calling +44 202 8962 6793.
Contact your local TAG Global Events team here:
US events.us@appointmentgroup.com
Asia Pacific events.au@appointmentgroup.com
Get a fast track response for your enquiry
Please complete the following to get a call back from one of our travel experts.