Written on 19th June 2018 by Sam Robson
TAG's Global Events team delivers an evening of celebration at One Big Night in London
When a global luxury automotive brand wished to create one big event that would celebrate its achievements, and those of its retailers, it turned to The Appointment Group(TAG) Global Events to deliver a memorable evening of celebration at The O2, London for more than 1,200 guests.
TAG's Global Events team project managed One Big Night, a celebratory evening formed by merging two separate, smaller events. One Big Night was designed to celebrate a record-breaking year in the UK for the luxury car brand, in particular, new car sales across the country reaching an all-time high.
Memorable event
One Big Night provided the car giant with an opportunity to reward its guests with an event that had all the "style and glamour of The BRIT Awards". PRG, the full-service technical specialist, and The Appointment Group, the event management specialist, worked in close collaboration to provide event management and technical production to the VIP evening.
More than 1,200 guests enjoyed the event at The O2, London, which saw a famous three-piece boy band perform and Dermot O' Leary compere. One Big Night comprised a red carpet experience, Champagne reception, awards and dinner for guests and employees of the automotive giant. TAG Global Events took responsibility for overall event management and logistics while PRG oversaw all technical aspects of the large-scale corporate event. TAG had just three months to design, plan and execute One Big Night. PRG had one month to create technical elements that would not only "wow" guests but that could also be loaded in with a shortened timeframe. And it did.
[gallery size="medium" ids="23505,23506,23507"]
Delivering the "wow" factor
PRG supplied lighting, rigging, video, audio, staging and signage. Furthermore, the event featured more than 500 moving lights, 988 LED tiles, four kilometres of fibre, 130 rigging points and a bespoke, interactive table plan. All of which required 283 pages of health and safety documentation. PRG used Kinesys motors to lift one of three screens, revealing the pop band, and BAT truss enabled the tech specialist to pre-rig the lights in order to achieve the "wow" factor production within a 12-hour load-in window. Marjory Brown, UK Director of Events at The Appointment Group, said "PRG were incredibly professional, skilled in their areas and they had clearly allocated the best people for the job. All elements came together seamlessly – lighting, video, staging, projection, project management and creative content – which meant that One Big Night really was of the highest quality."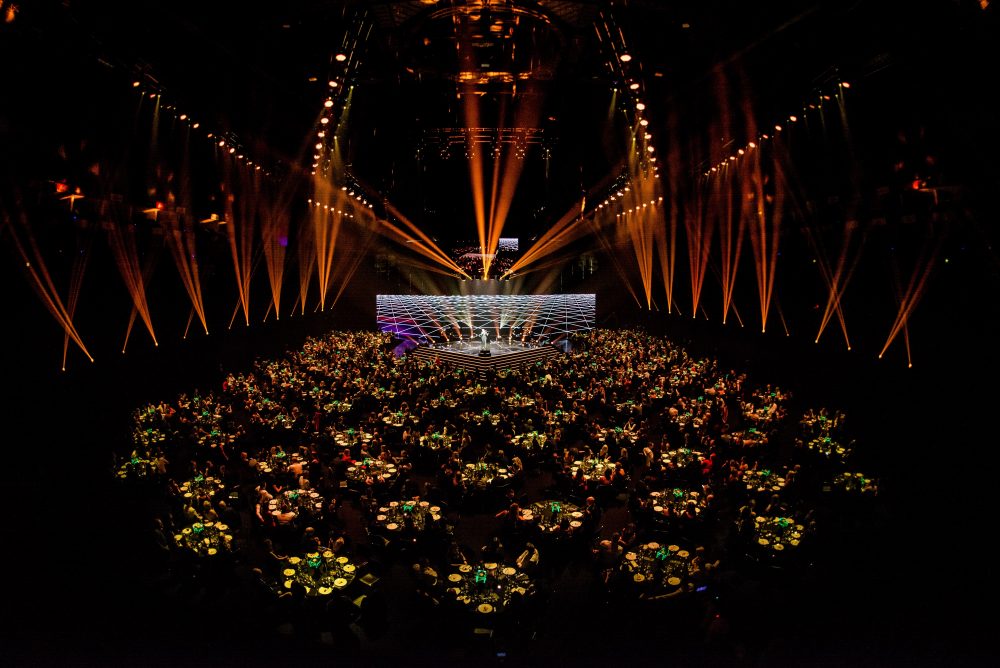 One-off experience
"This event is the most important date in the calendar for many of the guests and most of the details for the event were kept a secret from guests and we added surprising touches along the way," Brown commented further. "From a shuttle service from the tube station, to a number of personalised gifts in their rooms, the opportunity to have their photo taken against the step and repeat wall, an open bar, a four-course dinner, an awards presentation – hosted by Dermot O'Leary – and world-class entertainment; it was certainly a night to remember for many."
She added: "The feedback has been phenomenal – people were incredibly overwhelmed by the scale of the event and it was definitely a one-off experience for them. For 1,200 people to dine in a venue as prestigious and renowned as The O2 with A-List entertainment is not something that many people experience so I think everyone felt privileged to attend. "The feedback from our client has been incredibly positive too and they were also overwhelmed and proud to be part of this event. It was definitely a team effort."
Get a fast track response for your enquiry
Please complete the following to get a call back from one of our travel experts.