Delta Air Lines is the U.S. global airline leader in products, services, innovation, reliability and customer experience. Powered by its 80,000 people around the world, and headquartered in Atlanta, Georgia, Delta offers more than 5,000 daily departures and as many as 15,000 affiliated departures including the premier SkyTeam alliance, of which Delta is a founding member. The airline serves nearly 200 million people every year, taking customers to more than 300 destinations in over 50 countries. Delta operates significant hubs and key markets at airports in the United States and worldwide in conjunction with its alliance partners.
In 2018, Delta was named to Fortune's top 50 Most Admired Companies in addition to being named the most admired airline for the seventh time in eight years. Additionally, Delta was named Best Long-Haul Airline at the 2019 Business Travel Awards, UK Airline of the Year by TTG Media, Selling Travel's Best Airline to North America and Business Traveller's Best North American Airline.
Onboard Experience
Exceptional Begins with Delta

Delta One®
Luxury at a Higher Altitude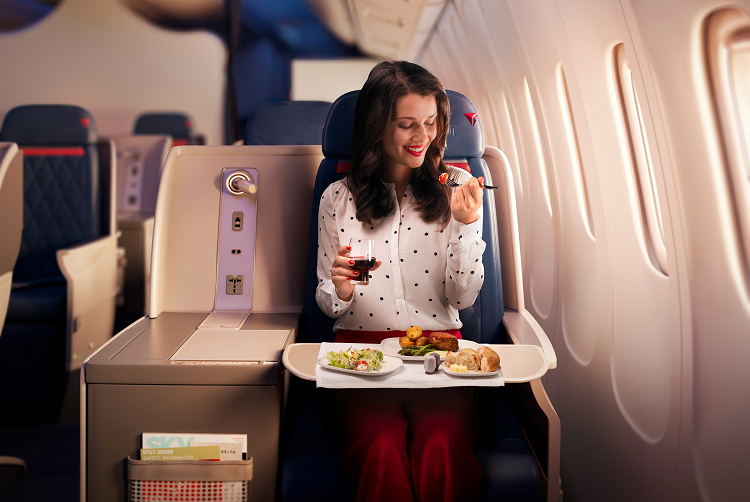 Expect luxury for the long-haul when flying Delta One® which offers personalised service and meticulously thought-through details that truly make a difference in how you spend your time in the air. With our 180-degree flat-bed seats featuring Westin Heavenly® In-Flight Bedding, chef-curated meals and wine pairings, and free premium entertainment flights fly by.
Delta Premium Select
A Superior Experience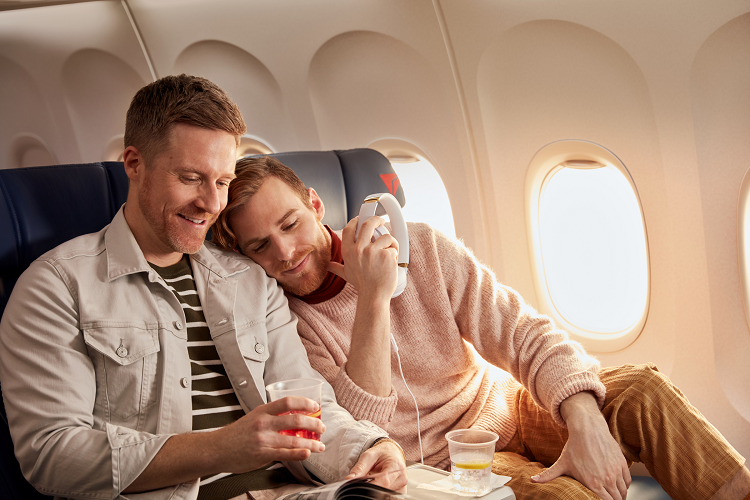 You'll find more space to stretch out and relax with a wider seat, and additional recline, and an adjustable footrest and leg rest. Plus, with plated meals, you can cruise in complete comfort with an enhanced travel experience every time you fly Delta Premium Select.
Delta Comfort+®
It's Simple, Plus Means More
With access to dedicated Delta Comfort+® boarding and overhead storage space, you'll be among the first on-board to stow your carry-on when you fly Delta Comfort+®. Stretch out with more legroom while enjoying free Starbucks® coffee, beer, wine and spirits.
Main Cabin
A Higher Standard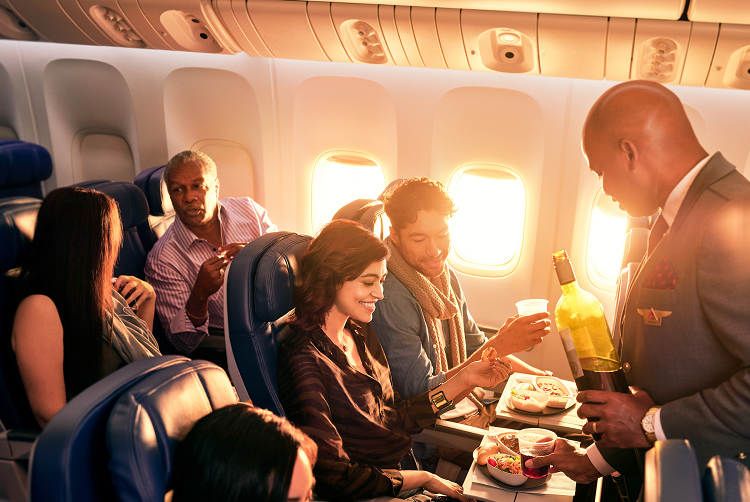 Get cosy in a comfortable leather seat with complimentary sleep kit. Enjoy a wide selection of tasty meals and snacks as well as complimentary beer, wine, spirits, Starbucks® coffee and more. Catch up on TV, movies and music with complimentary seat-back entertainment from Delta Studio® and ergonomically designed earbuds.
Global Network
Including its worldwide alliance partners, Delta offers customers more than 15,000 daily flights, with key hubs and markets including Amsterdam, Atlanta, Boston, Detroit, Los Angeles, Mexico City, Minneapolis/St. Paul, New York-JFK and LaGuardia, London-Heathrow, Paris-Charles de Gaulle, Salt Lake City, São Paulo, Seattle, Seoul, and Tokyo-Narita. Delta has invested billions of dollars in airport facilities, global products and services, and technology to enhance the customer experience in the air and on the ground.
Within the UK, Delta and partner Virgin Atlantic offer almost 40 daily flights from six U.K. airports. We fly to over 15 U.S. destinations nonstop, with an incredible 230 cities available one-stop across North America, including:
London Heathrow to: Atlanta, Boston, Detroit, Las Vegas, Los Angeles, Miami, Minneapolis, New York Newark, New York-JFK, Portland*, Salt Lake City*, San Francisco, Seattle, Washington DC
London Gatwick to: Orlando
Manchester to: Atlanta, Boston*, New York-JFK, Las Vegas*, New York-JFK, Orlando, San Francisco*
Edinburgh to: Boston, New York-JFK*
Glasgow to: New York-JFK*, Orlando*
Belfast to: Orlando*
(*seasonal services)
A partnership that redefines transatlantic business travel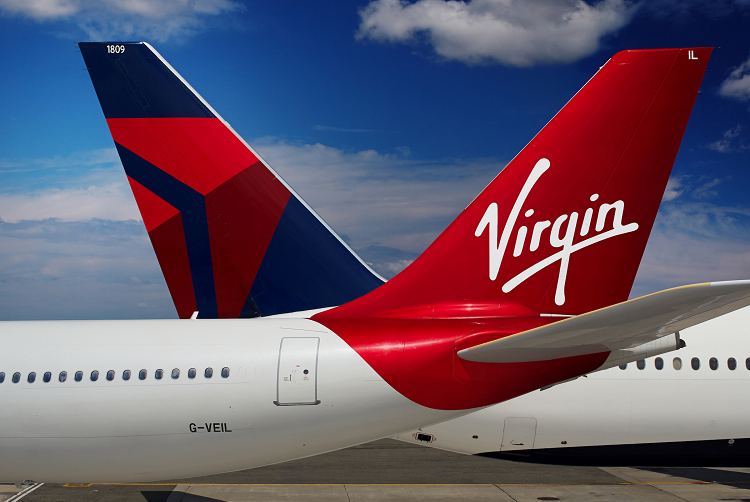 Virgin Atlantic with Delta Air Lines® is an airline partnership that truly redefines transatlantic travel. Not only do we fly to over 200 US destinations; but we're the most connected transatlantic partnership with WiFi on nearly all flights, we're co-located at key international airports with convenient schedules and we have rewarding mutual loyalty programmes. Onboard both airlines, you'll experience warm, personal service, award winning entertainment and innovative products in some of the best premium cabins in the sky.
Sustainability
Delta's sustainability strategy drives accountability and evaluates areas of opportunity across the business to lower its environmental impact. Since 2005, the airline has reduced its jet fuel consumption, leading to an 11 percent decrease in emissions as Delta works toward its long-term goal of reducing emissions by 50 percent by 2050. Most recently, Delta invested $2 million in a feasibility study of a biofuel production facility and flew its first of 20 carbon-neutral delivery flights using biofuels and carbon offsets this summer. Delta has capped its carbon emissions at 2012 levels by purchasing offsets and also removed a variety of single-use plastic items onboard, from amenity kits and from Delta Sky Clubs.