Written on 2nd December 2016
TAG teams up with 'Off The Record' festival in Manchester
'Off The Record' is a brand new emerging multi-venue music event and conference in Manchester's Northern Quarter. Its very first edition took place across the city of Manchester on the 4th November 2016.
The festival is a collaboration between Sound City, Kendal Calling, bluedot and Louder Than War, is all about innovative ideas, new music and emerging artists handpicked by trusted curators (Guy Garvey, Huw Stephens, Lara Baker and Tom Lovett – to name a few!), from across the country who inspire those starting out in the industry.
The line-up was a secret until 24 hours before the event, with 30 influential curators each putting forward 3 of their favourite emerging artists. The festival objective is to nurture new artists and offering them a platform to present their music to the greater public. It also aims to 'educate' these same artists and performers with insightful conferences focusing on various subjects ranging from "how to get heard over the noise", "If you're gonna do it, do it right – putting a gig on properly" amongst many others.
The festival hosted a line-up  showcasing different artistic styles and innovative ideas, with artists performing such as: Acre Tarn, BlackWaters, Bossy Love, False Advertising, Francobollo, Loaloa, MarthaGunn, NGOD, NovaTwins, Rews, RHAIN, Saltwatersun, Seafoal, Shrinking Minds, TEAR, The Age Of LUNA, The Orielles, The Pearl Harts, Willie J Healey, XamVolo, Youthman, just to name a few.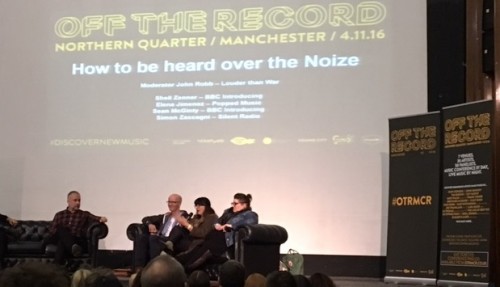 The Appointment Group prides itself on working with some of our clients from their very first tour experience, travelling on splitter buses and continue to work with us when they are selling out stadium worldwide shows. We believe it is important to support the new generation of artists and allow them the best chance of success in the ruthless, highly competitive music industry. TAG therefore couldn't miss the opportunity to be part of such ground-breaking event in the Manchester music community and decided to partner with 'Off The Record'.
On the day several TAG representatives were present meeting and greeting familiar faces, new artists, tour managers and the Off The Record team. This is a fantastic opportunity to present TAG in a different light, we are experts in touring regardless of the size of the tour and budget available.
[gallery size="medium" columns="2" ids="17783,17784"]
Off The Record opens a new door for the music industry in Manchester and off the record – no pun intended. To our great pleasure the success of the event means this will be repeated on an annual basis and hopefully taken to other UK cities in the future, Glasgow being mentioned as a strong contender.
For more information about Off the Record please visit their website here.
For further information on the TAG Touring team please contact us here.
Get a fast track response for your enquiry
Please complete the following to get a call back from one of our travel experts.