Written on 6th October 2016 by Bethany Chamberlain
Luxury travel agents: top 5 exclusive use venues in the UK
Exclusive use venues provide the ultimate privacy and unrivalled flexibility, and the UK certainly has plenty to offer when it comes to quality destinations. From luxury country-house hotels to private islands (yes, we have private islands here in the UK), there's something to suit the most discerning of events organisers.
The luxury travel agents here at The Appointment Group (TAG) have put together a list of their favourites for your perusal −and when we say exclusive, we mean exclusive. Whichever exclusive use venue you opt for, you and your group are sure to feel like lords and ladies. Which one will you choose for your next event or getaway?
Country-house hotel: Lucknam Park
The breathtaking Lucknam Park − located 6 miles from Bath on an unspoiled 500-acre Cotswold estate − is one of England's finest luxury hotels, providing five-star luxury at every turn. Complete with 42 individually styled rooms, a glorious spa and a Michelin-star restaurant, the luxury travel agents at TAG think this is the perfect place to host your couple's incentive. What more could you want for a special getaway?
In addition, this quintessentially English venue is an excellent place to build relationships between team members and reward their hard work. Lucknam Park boasts a unique equestrian centre, two floodlit tennis courts, a state-of-the-art five-a-side football pitch, croquet lawn and mountain bikes on which to explore the green parkland. This surely has to be the ultimate escape for guests needing to escape fast-paced city life. The Cookery School offers the chance to perfect their skills and master new techniques, which could be a great group activity.
Location: Lucknam Park, Colerne, Chippenham SN14 8AZ
Private island: Osea Island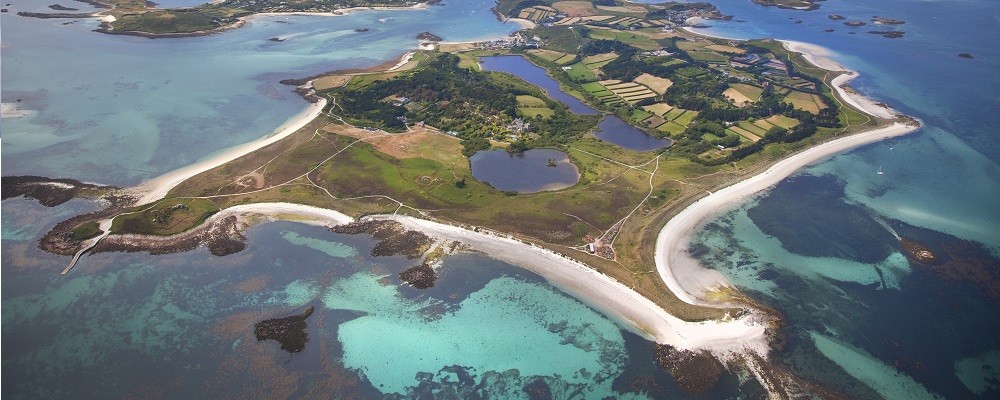 A place often overlooked by many luxury travel companies, believe it or not you can discover your very own exclusive private island surprisingly close to London. Osea Island can be found off the coast of Essex in the Blackwater Estuary, and it is available for exclusive hire to create a unique and immersive experience-to-remember for your group.
The island has a total of 24 properties, 550 acres of land, 4.5 miles of private beaches and 24-hour licenses for food, drink, music and entertainment. Providing a whole host of exciting activities − from corporate team-building exercises to swimming, archery, canoeing and laser battles − as well as four specific event spaces (from 40 people seated, up to 1000 standing, with additional garden capacity) the island is perfectly equipped to cater to any client's needs. We also think it would be the ideal spot for your very own company festival. With four square miles of unspoilt landscape, beaches, fields, gardens and host of amazing buildings – the possibilities really are endless, and the backdrop is guaranteed to be magical.
Osea Island is accessible via tidal causeway or (at high tide) boat, while transport from central London takes 90 minutes by road or 60 minutes by train. If you'd like to arrive by helicopter, the nearest airfield is located 20 minutes away in Battersea.
Take a virtual tour here. [https://www.youtube.com/watch?v=MzhuUz6E8Ko&feature=youtu.be]
Location: Osea Island, Maldon, Essex
Outdoor retreat: The Forest Works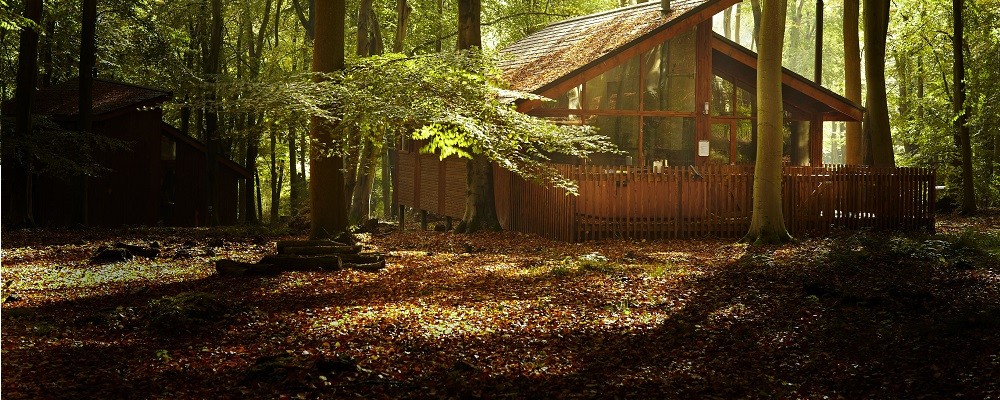 Our luxury travel agents know that this place of adventure is perfect for groups looking to explore outdoor team-building activities and return feeling united and refreshed. The Forest Works have nine exceptional locations across the UK in Scotland, the North of England, the Midlands and the South. Some of their exclusive use venues are within easy reach of London links − such as Blackwood Forest and Thorpe Forest − while others are out in the wilderness.
This is certainly not your average corporate retreat. Every one-of-a-kind site is situated deep in the forest, and these mysterious spaces become a place where you can create something special and unique. The dedicated in-house events and hospitality are ready to meet your requirements and help you ensure your event is an all-round hit. Exciting challenges await, too, including a forest survival course led by an on-location forest ranger, a high-adrenaline treetop adventure, a blindfold 4x4 assault course and a big-tree climb with a zipwire finale.
And when the sun goes down, guests can kick back in luxury cabin accommodation − including a bubbling hot tub, a wood-burning stove, and a flat screen TV for movies and games.
Location: The Forest Works, various locations throughout the UK
Fairytale escape: Glenapp Castle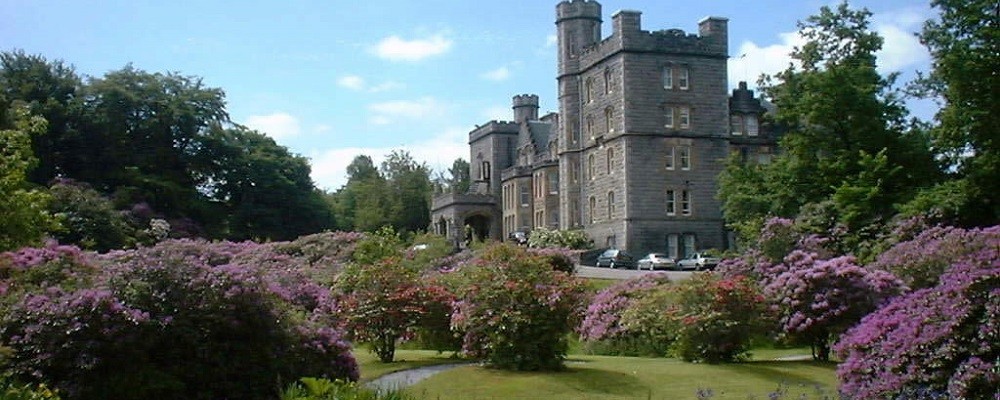 When it comes to seeking out magical Scottish castles, there are plenty of spectacular destinations for luxury travel companies choose from. Here at TAG, Glenapp Castle has to be one of our absolute favourites. Sitting pretty amid 36 acres of gardens and woodlands on the stunning Ayrshire coast in Ballantrae, this secluded, award-winning, five-star hotel provides the ultimate privacy, high-quality cuisine and exceptional service to all who walk through its doors.
Dating all the way back to 1870, the castle features magical towers, turrets and crenellations, and the fascination continues inside. Here you will find period furnishings and interiors − think oak-panelled hallways and corridors, and 17 individual guest rooms and suites with handsome antiques and fine oil paintings. Guests can also enjoy a range of high-end country sports, including clay pigeon shooting, high pheasant and partridge shooting, deer stalking, as well as salmon fishing on the River Stinchar or trout fishing on a nearby loch. What's more, a relaxing spa awaits only 5 minutes from the castle.
Should your guests want to venture out for the day, the major cities of Glasgow and Edinburgh are within striking distance. So, too, is the beautiful island of Arran, and even Belfast and Northern Ireland.
Location: Glenapp Castle, Ballantrae, Girvan, KA26 0NZ
Coastal chic: Cliff House Hotel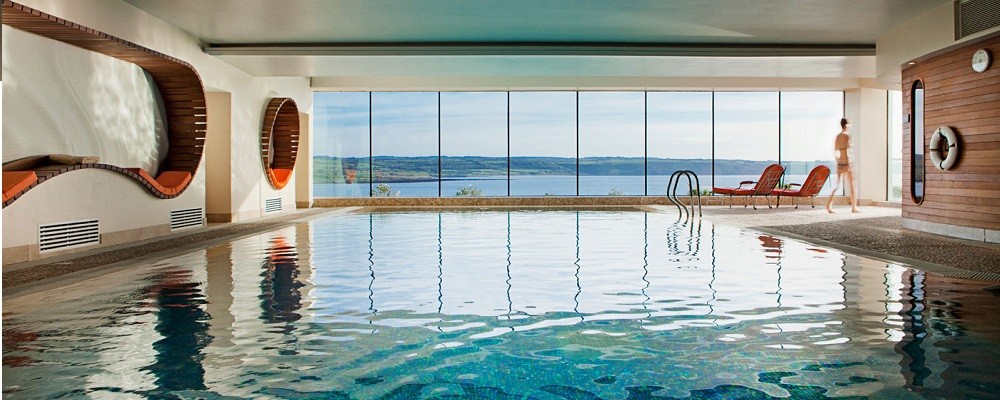 This is by far and away our favourite coastal property for exclusive use in the UK. If you're seeking peace and relaxation, look no further than the award-winning Cliff House Hotel on the coast of Ardmore, Ireland, which provides unrivalled sea views from many of the 39 chic, boutique-style rooms, plus a Michelin-starred restaurant and an intimate Irish destination spa. It's no wonder this place has been awarded five stars and earned itself a reputation as one of the finest small luxury hotels in the whole of Ireland.
In addition to delightful accommodation, team-building options are plentiful − on site, they offer an award-winning spa and exciting adventures such as kayaking, surfing, rock climbing, abseiling, archery, Treasure Island explorations and orienteering. Meanwhile, in the local area, clay pigeon shooting, foraging trips, the historic Ardmore cliff walk, cookery schools, castle tours, charter boat trips and many more attractions are available. There's something to suit all tastes.
Location: Cliff House Hotel, Middle Road, Ardmore, Co. Waterford, Ireland
As one of the leading luxury travel companies in the UK and beyond, TAG is here to help you seek out the right exclusive venue for you.
For more information on The Appointment Group's global event management services, please contact the team here.
Get a fast track response for your enquiry
Please complete the following to get a call back from one of our travel experts.