Written on 19th July 2019
Reducing waste, saving budgets
The Film and Media industry is known for being notoriously wasteful. From set designs being thrown away, props being tossed, packaging waste from catering, plastic water bottles for everyone on set… the list goes on.
The Producers Guild of America Green Report details the enormous plastic waste happening on set: A 60-day shoot requires around 39,000 water bottles. Universal Studios, for example, makes around 20 films a year with shoot days averaging much more than 60 days—that's a lot of water bottles! And that's just plastic waste. Movie sets can generate 225 tons of scrap metal, almost 50 tons of construction/set debris and 72 tons of food waste.
With more and more initiatives taking place for zero-waste in every sector, the film and media industry is catching up. Films and shows such as The Amazing Spiderman 2, Girls Trip, Madam Secretary, The Post, and Divorce all involved production sets that were working to be more sustainable and reduce their environmental impact. The Day After Tomorrow is a natural-disaster movie focusing on environmental changes. Directed by Roland Emmerich, he sought to ensure production wouldn't contribute to the problem by offsetting the carbon footprint of the film. He paid for this initiative himself and encouraged his agents, United Talent Agency, to become carbon neutral.
Other environmental issues surrounding film and media that may not seem as obvious: the energy consumption from generators, cameras, lights, etc. The University of California conducted a study into the environmental impact of film-making in Hollywood showing that in the LA region, the industry made a larger impact to air pollution than most major industries including: aerospace manufacturing, clothing, and the hotel industry. A big factor in the findings were the emissions created by power plants providing electricity to a studio lot and air miles. Planes, trains and automobiles used by stars and crew members create a large carbon footprint.
There are steps being taken to change the industries negative impact on plastic pollution and waste like the creation of PGA Green: the non-profit formed by the Producers Guild of America in 2009 to spread awareness about how filmmakers can go green. "We're getting to a place where we can see the future of it as a cost-cutting method," said Scott Franklin, producer of films such as the Darren Aronofsky-directed Noah and Black Swan. "It's the right thing to do." Having famous actors and producers advocating for these initiatives can help raise awareness. Jason Bateman directed and produced the film Bad Words using only solar energy in 2013.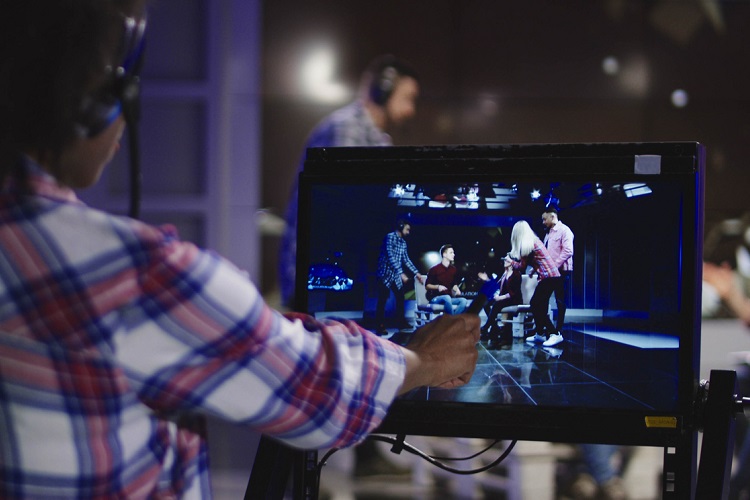 The article published by the Los Angeles Times Greener Film Shoots Can Also Save Costs states that studios can save 51% on water budgets by having a water cooler instead of plastic bottles. Production studios will now consider reusing/recycling props and set materials because waste disposal budgets can be cut down by 40% by these efforts. Changing disposable batteries for rechargeable ones can shrink battery costs by almost 60%. Studios also now promote and incentivize ridesharing and electric vehicle programs.
Hollywood is not the only problem, in the UK there is not a lot being done to halt plastics, or to start a zero-waste initiative in the industry. London's former mayor, put together the Green Screen Initiative to help London's film and TV industry's awareness on climate change.
"The screen production industry in London produces around 125,000 tonnes of carbon emissions each year - 125,000 tonnes is equivalent to approximately 24,000 London homes. This excludes distribution and exhibition of films and programmes, or production office travel. We can take action on climate change, cut our energy bills, and play a role in creating the new low-carbon economy. In an industry known for being progressive and creative, this is one way in which studios, producers, and talent can take the lead."
According to the Plastic Pollution Coalition, sets can get help from MovieMind Green. The organization increases sustainability throughout the entertainment industry: from commercial and film sets to more corporate settings and film festivals. A central part of that is reducing the use of single-use plastic. Hiring an eco-supervisor can also help. An eco-supervisor is a designated member of the crew in charge of keeping waste to a minimum. There are a lot of great resources as well for filmmakers and other artists online like carbon-footprint spreadsheets to checklists that make sure films are as sustainable as possible.
Follow TAG's social media all month for tips on how to reduce your sets plastic and waste production.

Get a fast track response for your enquiry
Please complete the following to get a call back from one of our travel experts.