Written on 20th October 2016 by Sam Robson
Mexico and Riviera Maya – The expert's view
Photo: Tulum Beach
When it comes to choosing the ideal destination for your conference or incentive event, the world really is your oyster. With so many places to pick from, making a decision can be tricky, but luckily for you, The Appointment Group's (TAG) – one of the leading global event management and group travel companies – are here to help. Here's our expert and Group Events Director, Sam Robson, to serve up some off-the-beaten track inspiration on the Caribbean coast no less…
Head for the Caribbean coast
The Riviera Maya covers a spectacular 120km (86-mile) stretch of Caribbean coastline on Mexico's north-eastern Yucatán Peninsula. It's blessed with a plethora of world-class resorts, unique venues and, conveniently, international flights all year round from the UK, Asia Pacific and the USA – when it comes to global travel management, it certainly ticks the boxes as an event, conference or incentive destination.
What's more, if you're looking for good weather, then look no further. The average temperature stands between 21 ºC - 33 ºC (70ºF -91ºF) – the best time to travel weather-wise would be between the months of November and April. However, this does coincide with Spring Break, so make sure to travel before February with your group in order to avoid the crowds. Ask our global event management specialist for specific advice.
All international flights arrive into Cancun International Airport, which is now in the process of extending all three of terminals to accommodate the demand for more flights. From London, UK you can fly with Virgin Atlantic and British Airways with only 1 stop, while New York offers direct, non-stop flights with Jet Blue and American Airlines. You can also find flights from Tokyo on All Nippon Airways and United Airways with only 1 stop, as well flights from Sydney on Virgin Australia and Delta with only 1 stop. Depending on where along the coastline you are staying, journeys to hotels take from 20 minutes to an hour.
But where to stay?
Of course, where you stay completely depends on the needs of you and your group. Many factors need to be considered when selecting a suitable environment for your event – service, location and cost are probably the three most important in most cases. As one of the top group travel companies, TAG is here to ensure you make the right decision for you.
There's certainly no shortage of breath-taking properties and world-class resorts along Riviera Maya – including the incredible Fairmont Mayakoba in Playa de Carmen, which is tucked away amid 97 hectares of tropical forest and luscious mangroves and white, sandy beaches. This AAA five-diamond resort – with refined accommodation and pools galore – is a favourite for larger groups in search of a more casual yet elegant ambiance. What's more, it's located right next door to the Banyan Tree Mayakoba hotel, which boasts unrivalled facilities for larger and smaller, more intimate groups alike.
If you're looking for something high-end and all-inclusive, consider the Royal Hideaway Playacar, just minutes away from Playa del Carmen. Set right on the beachfront, this adults-only resort with flexible event spaces provides excellent facilities for small groups in search of a touch of sophistication. Alternatively, you check out the Grand Velas Riviera Maya, complete with premium-class, all-inclusive and indulgent facilities for larger groups.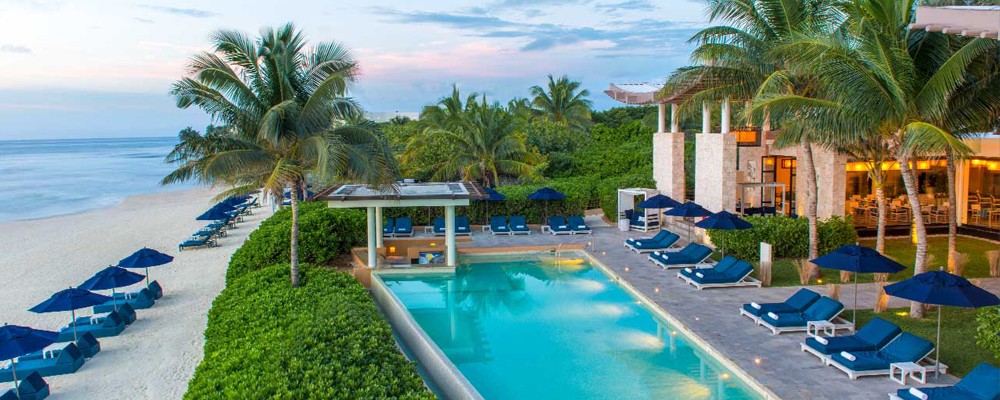 Photo: Banyan Tree Mayakoba
Tops tips from a local expert
Logistically, if you're holding your event or incentive in the area, staying in the Riviera Maya is a smart choice – it means you and your guests or attendees will be within easy reach of many of the local attractions. Group travel companies or global travel management specialists will be able to organise this on your behalf.
Be sure to make most of what this awe-inspiring destination has to offer. For example, have you ever been to a cenote before? This is your chance to get up close with these unique sinkholes that expose the fresh, clear ground water from below. Let the local people enchant you with their tales of the Mayan Sacrifices and how the cenotes were a huge part of their ceremonies.
The whale shark – the gentle giant of the sea – is another attraction. These majestic fish visit once a year between the months of May and September to feed on plankton, krill and fish eggs, and use the warm, Caribbean waters as a breeding ground to bear their new pups. The slow-moving whale shark is the largest fish on the planet and are completely harmless to humans. Watching them glide through the open waters is a sight to behold.
Mexico is a country with a rich culture and history, so your trip just wouldn't be complete without a visit to one of the nearby archaeological sites. Just a short, hour-long drive south of Playa de Carmen, you will discover the ruins of Tulum – an ancient Mayan Civilization. Although small compared to many others, it was in fact significant owing to its use as a trading post for turquoise and jade. This is the only city that was built near the Caribbean Sea, so you can expect to see an incredible backdrop.
Head another 20 minutes inland from Tulum and you'll stumble upon the ruins of another ancient Mayan city, Coba. Here you'll be able to climb the pyramid of Nohoch Mul – 137 feet high above the treetops – from which you'll enjoy views over the dense jungle below.
Finally, no visit would be complete without a trip to Chichen Itza – the largest archaeological site in the region. You'll need to dedicate a whole day to the tour of this world-famous complex of Mayan ruins, but it's worth it to learn about this complex society, their rituals and beliefs – and to see the imposing step pyramid known as El Castillo, the Temple of the Warriors and the Wall of the Skulls. Stick around into the evening and you can enjoy sound-and-light shows, which illuminate the buildings' sophisticated geometry.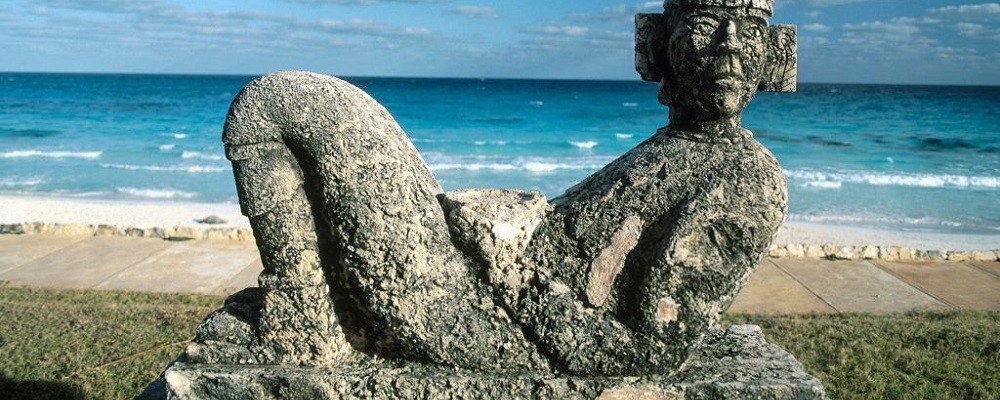 Chac Mool: one of the most famous statues in Mexico
Could the Riviera Maya be the best events and incentive destination in Mexico? Well, it's definitely difficult to beat – and your guests are sure to talk about it for years to come.
Want to discover more about the Riviera Maya? Watch the videos below:
Get a fast track response for your enquiry
Please complete the following to get a call back from one of our travel experts.