Written on 8th December 2015 by Sam Robson
Events in Istanbul – The expert's view
In a new series of articles, event experts at TAG Global Events share their insights into event locations around the world. Group Events Director, Sam Robson, starts the globe-trotting journey in Istanbul, Turkey.
Known as the city where Europe meets Asia across the Bosphorus, Istanbul is also the meeting of ancient history and super cool – and an ideal location for both conference and reward events.
A huge, bustling city with a population over 15 million, it is easily accessible from New York, with Turkish Airlines, from Sydney and Melbourne with one stop using either Emirates or Qantas and from London, flying British Airways and Turkish Airlines. Established hotel brands, such as the Hilton Istanbul Bosphorus, Conrad Istanbul and the Swissotel The Bosphorus, offer large flexible meeting and product launch spaces, while the St Regis Istanbul, Park Hyatt Istanbul – Maçka Palas and both Four Seasons properties cater perfectly for smaller groups and incentives. Take guests by private boat from the airport to the private pier at the Four Seasons Istanbul at the Bosphorus to create the perfect start to your event - and avoid the city's busy traffic.
[caption id="attachment_15082" align="alignleft" width="405"]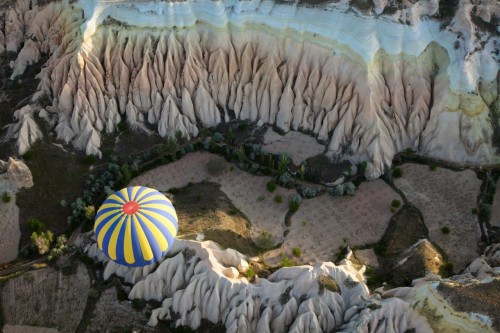 Cappadocia - Turkey[/caption]
A three-night event offers the perfect time for both work and pleasure. The historical sites of Hagia Sophia, originally built in 500AD, and the Blue Mosque with a private guide are top of the list. Enjoy the Grand Bazaar if you have more time where, with some local inside help, guests can work with a silversmith or experience the inner workings of the market. It's the perfect city to wander around, and barter with street sellers for the distinctive glass blue 'eyes' called Nazar Boncugu, intended to protect against jealousy. But remind guests to carry a map if they do.
Sampling the delights of dinner and drinks at a traditional meyhane followed by dancing in an open air club jutting into the Bosphorus shows both conference delegates and reward trip guests the best of traditional and cool Istanbul. Start the next day with a private breakfast in the Cistern of 1,001 columns and end with dinner in one of the city's jaw-dropping roof terraces or a privately owned riverside mansion.
Adding an extra night opens the option of a trip to Cappadocia, Turkey's land of fairy chimneys, just 75 minutes' flight from one of Istanbul's two (soon to be three) airports. Conical pink rock formations create a backdrop to an amazing location with cave churches, an underground city and hotels carved into the soft volcanic rock. A balloon ride at dawn is the perfect way to view this striking landscape.
April, the first two weeks in July, and October are ideal months for hosting events in Istanbul, avoiding peak season. The temperature is always comfortable in the city, with an average maximum of 27 Celsius in August. This warm climate, along with the fascinating culture, striking architecture, stunning river vistas and good facilities make Istanbul the ideal location to create a memorable experience for guests. But they had better take a Nazar Boncugu home with them, as colleagues and friends are bound to be jealous.
For more information on The Appointment Group's global event management services, please contact the team here.
Get a fast track response for your enquiry
Please complete the following to get a call back from one of our travel experts.