Written on 5th April 2018 by Laura Tucker
TAG Global Events: What's hot right now - Uniquely Memorable Event Experiences
In an effort to shake things up, why not remove attendees from their physical comfort zones as a means of pulling them from their mental comfort zones. Here are two out-of-the-box ideas that achieves just that followed with an idea that will help integrate a contemporary urban feel into any corporate event.
Sky Labs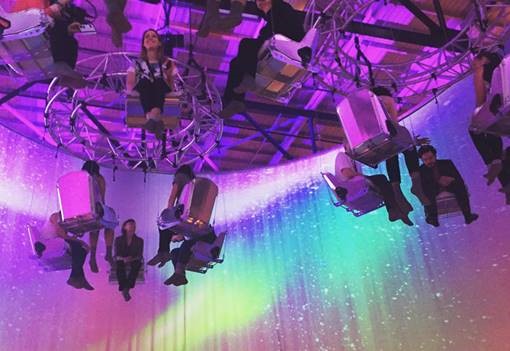 Instead of attendees seated in a typical conference format, why not suspend them? Here's a small group of people conducting a brainstorming session in chairs suspended 30 feet in the air.
The Aquarium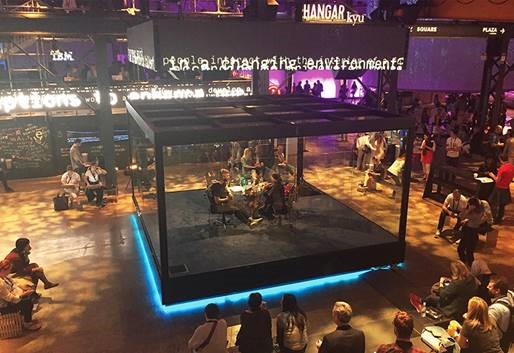 Serving as a think-tank-meets-fish-tank, the Aquarium is a glass box structure planted in the middle of the show floor that serves as a live-broadcasting space. Audio is beamed out of the box, allowing passersby to stop and listen to a variety of employees across the business discussing major ideas stemming from the conference each day. Adding to the experience, key words, insights and quotes that emerged from workshops, masterclasses and and the conference helped create a visual "information theater" in real time that enveloped the Aquarium. Key words and phrases danced on LED tiles and a grid of screens above and around the structure, adding a striking visual component to the overall experience.
An Urban Canvas
Anything urban is incredibly hip right now. Just like the food trucks and music, art is something you can bring to life at your next event. Why not integrate a speed painter to modernize your event? Provide one wall or big canvas and let a graffiti artist perfectly capture the atmosphere of your event. Super cool if they work with glow in the dark paint too!
Get a fast track response for your enquiry
Please complete the following to get a call back from one of our travel experts.