Written on 3rd April 2019
Timothy Walker named as TTG's 30 under 30 future travel leaders
TIMOTHY WALKER HAS BEEN NAMED AS ONE OF THE HIGHEST FLIERS IN TRAVEL, UNDER THE AGE OF 30!
Timothy Walker, Corporate Account Manager at TAG, has been invited to join the seventh year of a scheme launched by Travel Trade Gazette – the industry's leading travel trade magazine. This initiative shines the spotlight on the travel industry's most inspiring young people who have made an outstanding contribution to their business.

"There are countless networking events in travel, but there aren't many opportunities for the younger stars in the business to meet, to network and to be inspired by some of travel's current leaders. Tomorrow's Travel Leaders not only celebrates these individuals but also gives them a real opportunity to learn from some of the most senior people in the industry as well as each other. I'd personally like to congratulate Timothy on making it to the final 30."
Daniel Pearce, CEO, TTG Media
The competition for the initiative was extremely fierce, with nominations across a wide spectrum of industry sectors. A panel of distinguished judges met recently to choose the 30 successful candidates.
As part of the final 30, Timothy will receive free membership to the Institute of Travel and Tourism, and will be invited to a series of networking dinners and events, with speakers drawn from the most senior levels within travel.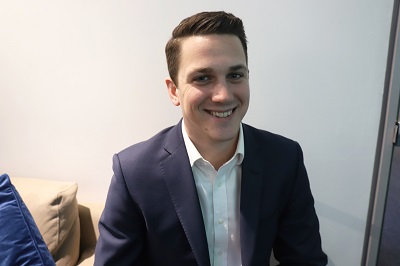 "I'm absolutely delighted to be recognised as one of the future travel leaders in what is an exceptionally gifted and competitive pool of talent. This invitation to join this fantastic and prestigious scheme run by TTG shows that with the right attitude and hard-work, the Travel industry is one that looks out for and rewards its key contributors. Of course, this wouldn't have been possible without the backing of an incredibly supportive company in TAG and I have to thank them for the belief they have shown in me from Day 1. I can't wait to meet the rest of the 30 Under 30 team and work collaboratively to broaden my industry knowledge and share my experiences and thoughts on the future direction of our industry." Timothy Walker, Corporate Account Manager, TAG.
"Having been chosen in the first TTG '30 under 30' selection back in 2013, I know it's both an honour and a privilege to meet so many inspiring people whilst also being provided with an amazing platform for growth and enrichment utilising the networking opportunities at hand. I'm tremendously proud of Tim and what he's achieved at TAG and know he's extremely deserving of a spot in the 2019 '30 under 30', he has a very bright future ahead of him." Jodie Edwards-Locke, Managing Director UK, TAG.
Get a fast track response for your enquiry
Please complete the following to get a call back from one of our travel experts.