Written on 8th July 2016
The impact of International events on the cost of travel
As many travellers might have already experienced during this "Summer of Sports" International sporting events can have a considerable impact on the price and availability of accommodation and flights. This is an inevitable consequence to the increased demand, however taking the following precaution into consideration could be of great help should you need to travel during these extremely busy periods.
Recommendations
Ensure to book as early as possible to avoid the highest rates and to ensure you can get availability for travel on your preferred airline and flight times.
Should you be unable to confirm exact dates until very close to the travel date, we recommend still booking your hotel in advance but booking flexible hotel rates, which, will allow you to cancel closer to your date of travel without a penalty.
Whenever possible, travellers should try to avoid busy travel times to keep costs as low as possible. Typically fares are higher during school holiday periods. For example Friday and Sunday Flights will usually be priced higher and there will be a lot less availability.
When travelling to popular destinations such as Paris, London and Berlin, considering other airports could also be a money saving option. Instead of flying form Paris Charles de Gaulle, consider Orly, London Gatwick/City/Luton or even Stansted instead of London Heathrow, Shoenenfeld in Berlin instead of Tegel, and the list goes on. These airports could be slightly further out of the city but with reliable transport option to and from city centres, they will still offer great value.
Demonstrating flexibility in the areas you would like to stay in can also reduce your hotel spend. If willing to use local public transportation, we could find more competitive prices for you without impacting the quality of the hotel you would expect.
Extra caution is advised when checking terms and conditions of booking when reserving hotel accommodation (especially by online providers). All too often T&C's are more restrictive during these busy periods and can apply penalty fees earlier that they usually would.
The Appointment Group has compiled the below Events calendar that includes major sporting events, cultural events and bank holidays that are likely to have an impact on travel. Please note this list is not exhaustive.
Event calendar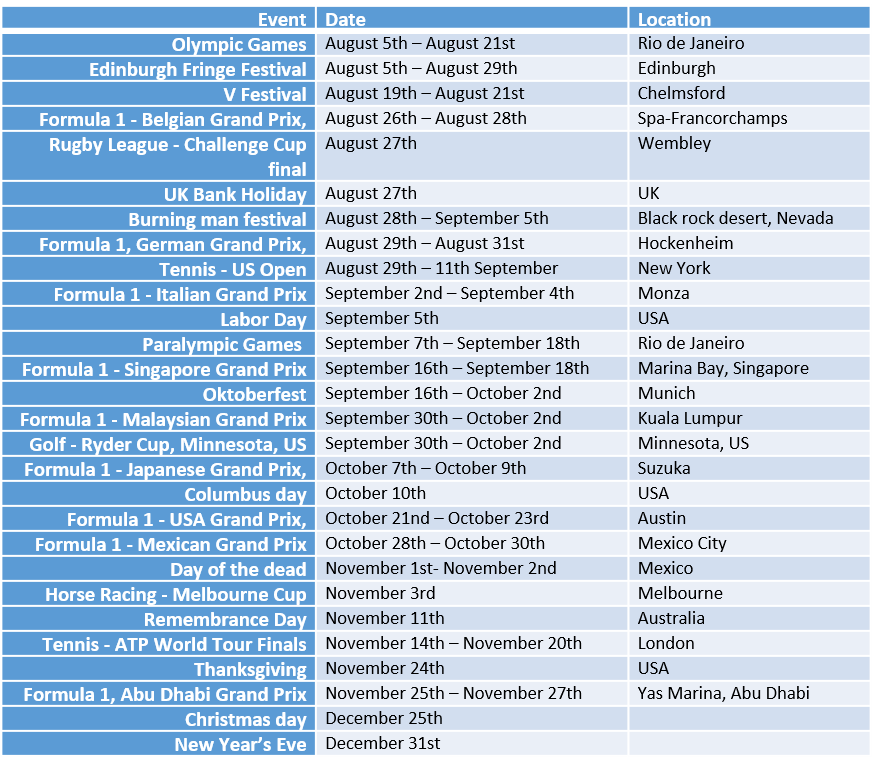 Get a fast track response for your enquiry
Please complete the following to get a call back from one of our travel experts.