Written on 10th May 2018
American Airlines introduce routes to the Caribbean and Hawaii and Winter schedule changes
American Airlines customers will have new options to escape the cold with more seasonal and year-round flights to the Caribbean and Hawaii starting this winter.
An overview of these new flights is as follows:
From Chicago: Daily winter seasonal service to Honolulu and four new routes to the Caribbean
From Miami: Seven additional daily frequencies to the Caribbean and one new route to the Caribbean
From Charlotte Douglas: Two new routes to the Caribbean
From Dallas Fort: One new route to the Caribbean
American Airlines will move one of its Miami International Airport (MIA)–London Heathrow Airport (LHR) flights and instead operate a Dallas Fort Worth International Airport (DFW)–LHR frequency. Through its Atlantic Joint Business, British Airways will add a third frequency between MIA and LHR.
Finally, American will seek a dormancy waiver from the U.S. Department of Transportation to discontinue its service between Chicago O'Hare International Airport (ORD) and Beijing Capital International Airport (PEK). The airline also announced it plans to remove the nonstop ORD–PEK service from its schedule in October.
American is the first U.S. carrier to serve St. Vincent and the Grenadines (SVD) with the introduction of year-round Saturday service from MIA. American's sun-seeking customers will also have more opportunities to reach their favorite Caribbean destinations, including new flights to Aruba (AUA) from ORD and DFW; to Grand Cayman, Cayman Islands (GCM); Nassau, The Bahamas (NAS); and Providenciales, Turks and Caicos (PLS) from ORD. Customers will also gain new access to Eleuthera (ELH) and Marsh Harbour (MHH) in The Bahamas from Charlotte Douglas International Airport (CLT).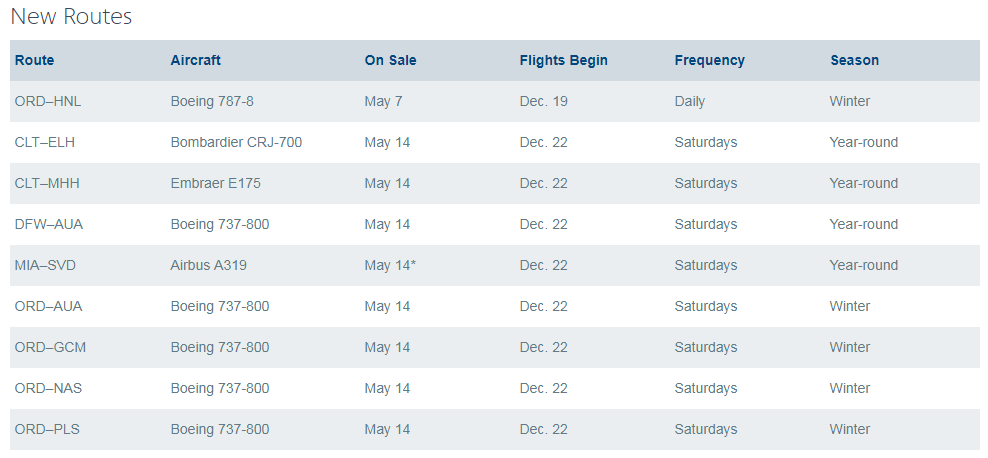 Source: aa.com