Written on 24th November 2016
Behind the scenes at SkyTeam's new Beijing lounge
SkyTeam, the global airline alliance, has offered a preview of its latest lounge which will open at Beijing Capital International Airport in the coming weeks.
As the second SkyTeam-branded lounge in the Greater China region and the sixth worldwide, it will offer a luxurious pre-flight experience complemented by high-end amenities for First and Business Class passengers and Elite Plus members flying on any of the 12 SkyTeam airlines serving the airport.
The spacious 800-square meter facility has seating for 160 guests and, in keeping with SkyTeam's lounge theme, features SkyTeam's signature sleek, modern curves and natural accents of wood. The lounge was constructed in collaboration with SkyTeam by members China Eastern and China Southern. Beijing Aviation Ground Services will manage and operate the facility on behalf of the alliance.
The exclusive behind-the-scenes tour of the new lounge was hosted by SkyTeam CEO and Managing Director, Perry Cantarutti, and SkyTeam Chairman, Michael Wisbrun, and attended by media, CEOs and executive leaders of member airlines, who were in Beijing for a SkyTeam Governing Board meeting this week.
Highlights of the Beijing lounge include:
Buffet with hot and cold Chinese and international food offered throughout the day. Customers can help themselves to hot drinks, water and soft drinks, plus premium-label beers and spirits or enjoy a social drink at the wine bar.
Large, curved windows bring an abundance of natural light and airport views, while SkyTeam's iconic 'living wall' – a botanical feature in every lounge – adds a welcoming natural touch
Complimentary Wi-Fi, business area with computers and numerous power outlets throughout the lounge
Showers, with towels and toiletries for a pre-flight freshen up
A tranquil retreat with a separate TV room, relaxation area and a VIP room for added privacy
[caption id="attachment_17732" align="aligncenter" width="1000"]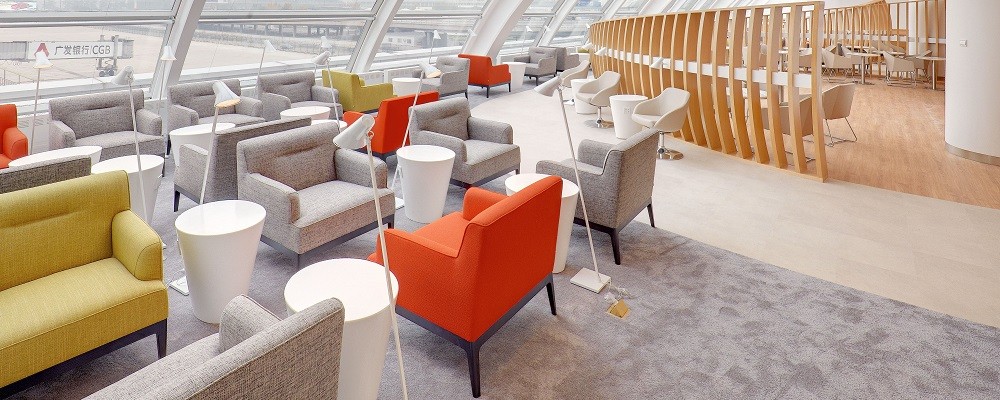 SkyTeam Beijing lounge[/caption]
SkyTeam customers benefit from more than 630 airport lounges throughout its worldwide network. In addition to the new Beijing lounge, these include other SkyTeam-branded facilities in Dubai, Hong Kong, Istanbul, London Heathrow and Sydney.
The alliance offers more than 3,700 weekly frequencies to and from Beijing Capital International Airport, operated by 12 member airlines: Aeroflot, Air France, Alitalia, China Airlines, China Eastern, China Southern, Delta Air Lines, Garuda Indonesia, KLM, Korean Air, Vietnam Airlines and Xiamen Airlines.
Source: Delta Air Lines