Written on 24th May 2018
British Airways launches new direct service to Morocco & other routes
British Airways launches new direct service to Marrakech, Morocco(RAK) from London Heathrow(LHR). It will be adding a new four-per-week service from Terminal 5 to the Moroccan holiday hotspot from 28th October 2018.
During the winter season customers will be able to fly direct from British Airways' London-hub, with services taking off on Thursdays, Fridays, Saturdays and Sundays; offering holidaymakers the perfect excuse to escape for a sunshine weekend break.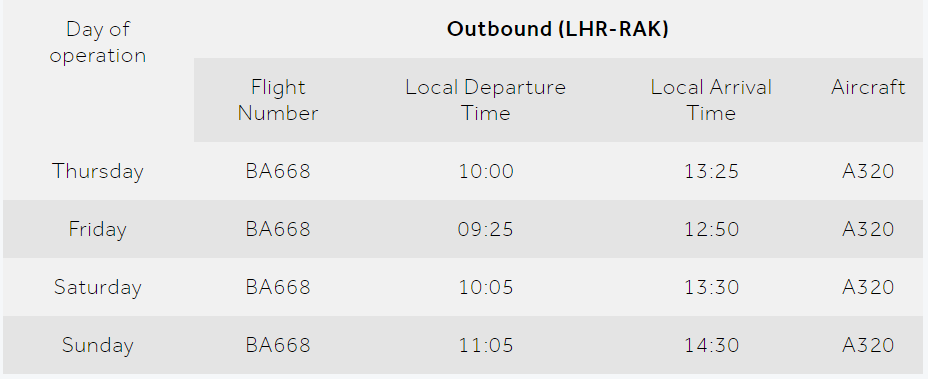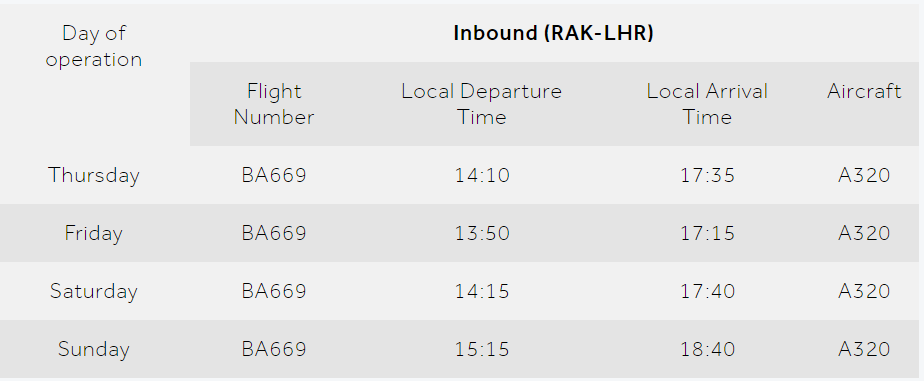 Other changes announced from British Airways include frequency increases, frequency decreases and change of day.
FREQUENCY INCREASES
Prague (PRG) - increase frequency from 27 flights to 34 flights per week
Barcelona (BCN) - increase frequency from 46 flights to 53 flights per week
Budapest (BUD) - increase frequency from 20 flights to 23 flights per week
Gibralter (GIB) - increase frequency from 9 flights to 13 flights per week
Berlin (TXL) - increase frequency from 53 flights to 55 flights per week
Zurich (ZRH) - increase frequency from 42 flights to 44 flights per week
Larnaca (LCA) - increase frequency from 7 flights to 10 flights per week
Malaga (AGP) - increase frequency from 4 flights to 6 flights per week
Las Palmas (LPA) - increase frequency from 1 flight to 2 per week
Vienna (VIE) - increase frequency from 34 flights to 36 flights per week
Lyon (LYS) - increase frequency from 21 flights to 23 flights per week
Rome (FCO) - increase frequency from 41 flights to 42 flights per week
Miami (MIA) - additional daily flight totalling 3 daily flights in each direction from 28 October 2018

FREQUENCY DECREASES

Warsaw (WAW) - reduce frequency from 14 flights to 13 flights per week
Newcastle (NCL) - reduce frequency from 41 flights to 34 flights per week
Aberdeen (ABZ) - reduce frequency from 53 flights to 47 flights per week
Glasgow (GLA) - reduce frequency from 60 flights to 58 flights per week
Bilbao (BIO) - reduce frequency from 14 flights to 7 flights per week
Paris (CDG) reduce frequency from 53 flights to 47 flights per week
Reykjavik (KEF) - reduce frequency from 14 flights to 11 flights per week
Stuttgart (STR) - reduce frequency from 14 flights to 13 flights per week
Stockholm (ARN) - reduce frequency from 34 flights to 33 flights per week
Frankfurt (FRA) - reduce frequency from 46 flights to 45 flights per week
Dallas (DFW) - reduce from a daily service to 6 flights per week from 28 October 2018
CHANGE OF DAY
Innsbruck (INN) - reduce by one Wednesday frequency and add one Tuesday frequency
Luxembourg (LUX) - reduce by one Saturday frequency and add one Friday frequency
Nashville (BNA) - day change from Monday, Wednesday, Friday and Saturday to Tuesday, Wednesday, Friday and Sunday
Nassau (NAS) / Grand Cayman (GCM) - day change from Tuesday, Thursday, Friday and Sunday to Monday, Thursday, Friday and Sunday
Source: britishairways.com