Written on 11th May 2017
Los Angeles Airport Terminal changes in May 2017
Over a five-day period in May, one-third of LAX's nearly 70 airline partners will relocate their operations, many of them to new terminals, others to new ticket counters in their current home. The moves will take place the nights of May 12th, 14th and 16th. Each airline will complete its relocation overnight and resume operations in their new location the following morning.
Delta Air Lines relocates from Terminals 5 and 6 to Terminals 2 and 3, furthering LAX progress toward its vision of a Gold Standard Airport. The coordination and cooperation among the airlines involved has been impressive and mirrors the importance that we all place on the guest experience at LAX. The end result will be more efficient airline operations between partner carriers, and planned facility improvements for Terminals 2 and 3.
Key changes as a result of the May 12th-17th realignment include: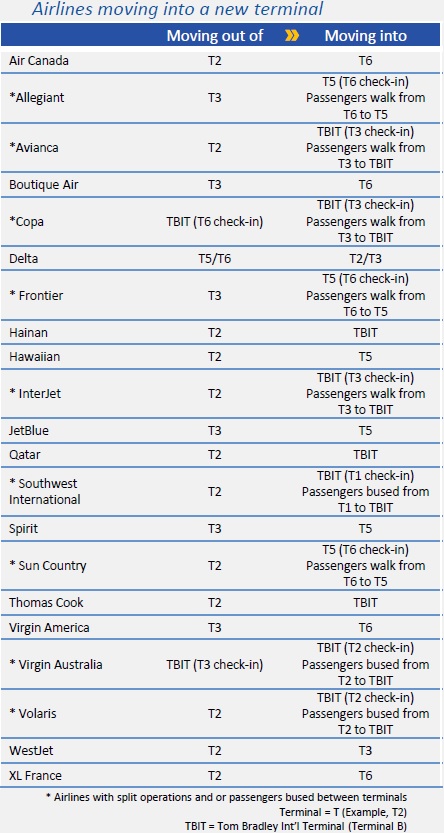 LAX Terminal Locations:
Terminal 2 – Delta, Aer Lingus, Virgin Atlantic, Virgin Australia and Volaris. Virgin Australia and Volaris customers check-in at T2 and are bused to TBIT for departure and arrivals. Aeromexico remains in Terminal 2 and relocates its ticketing counters; however, passengers will be bused to/from TBIT during those times Aeromexico uses gates at TBIT.
Terminal 3 – WestJet, relocating from Terminal 2. Avianca, Copa and InterJet check-in only.
Terminal 5 – Hawaiian, JetBlue, Spirit, Allegiant, Frontier and Sun Country departures and arrivals. American has four gates, and its American Eagle busing operation is also based here.
Terminal 6 – Virgin America joins its corporate partner Alaska Airlines. Air Canada and XL Airways France relocates from Terminal 2. Great Lakes and Mokulele remain in Terminal 6. Boutique Air relocates from Terminal 3. Allegiant, Frontier and Sun Country check-in only.
TBIT – Southwest Airlines' international flights arrive at TBIT, while SWA's international departures and check-in remain in Terminal 1. Avianca, Copa and Interjet departure and arrivals at TBIT. Thomas Cook Airlines resumes seasonal service in May with departures and arrivals temporarily from TBIT.
Tips for travelers:
Check-in online, print a boarding pass and confirm terminal and gate number with your airline before coming to LAX;
When entering the airport, look for signs directing you to the correct terminal;
Once at LAX, check flight and gate status on display boards in each terminal;
Plan ahead and allow extra time for walking. Some flights have check-in at one terminal with departure from another;
After check-in, some airlines will bus passengers to a different terminal for departure.
What happens if passengers arrive at the wrong side of the airport?
Pre-security, staff in neon green vests will help to direct passengers and answer questions.
Three, neon green shuttle buses will be available to transport passengers between Terminals 2/3 and 5/6.
Passengers can also use the free LAX "A" bus which operates between terminals, 24 hours a day, 7 days a week, and runs every 10 minutes.
Source: Los Angeles World Airports