Written on 24th May 2018
New non-stop Delta service between Orange County, California, and New York-JFK this October
Delta Airlines will launch new non-stop service from New York-JFK to Orange County, California on 15th October.
This new flight, the only non-stop from New York to John Wayne Airport, provides another link between Southern California and the Big Apple and follows on Delta's increased West Coast service from JFK this summer, with new San Jose and increased San Diego and Seattle frequencies.
"Our customers have told us more flights to the West Coast are valuable to them and we're very excited to add this non-stop service to John Wayne Airport in Orange County, complementing up to 10 daily non-stop flights from JFK to Los Angeles," said Chuck Imhof, Delta's Vice President – New York & Eastern Division Sales. "This is another great addition on top of more flights coming for our New York customers this fall."
This new service will operate six times weekly (every day except Saturday) along the following schedule and will be flown on Boeing 737-700 aircraft with seating for 12 in First Class, 18 in Delta Comfort+ and 94 in the main cabin.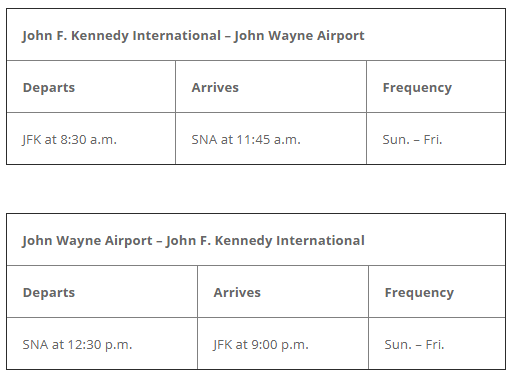 Customers on board can enjoy complimentary Delta Studio featuring more than 1,000 hours of on-demand in-flight entertainment on individual seatback screens or streamed directly to a laptop, tablet or mobile. There is also free live satellite TV as well as free mobile messaging via iMessage, WhatsApp and Facebook Messenger, plus optional access to Wi-Fi throughout the aircraft.
More flights reinforce Delta's commitment to New York customers
With over 500 daily departures this summer from New York City's two leading airports, Delta offers customers comprehensive service to the leading business and leisure destinations. Other highlights of expanded Delta service at JFK include:
New daily service to San Jose, California beginning 8th
More daily frequencies beginning this summer and fall to Nashville; Charleston, S.C.; Delta's Detroit Hub; Dallas/Ft. Worth; Indianapolis; Norfolk, Va. and Seattle
New international service to Lagos, Nigeria three times weekly that began in April
Expanded year-round service to Lisbon, Portugal from previous seasonal service
New non-stop Caribbean service this December to Kingston, Jamaica and Port-au-Prince, Haiti
Source: Delta.com