Written on 6th July 2017
Qatar Airways accelerates its global expansion with the launch of Prague and Sohar
Qatar Airways confirmed the expedited launch of two new destinations by the end of August 2017, with several more announcements to follow shortly. Joining Qatar Airways' global network, which spans six continents, are: Sohar, Sultanate of Oman, which will launch on 8th August; and Prague, Czech Republic, which will launch on 21st August.
The airline has confirmed the start of its new service between Doha and Sohar with three-weekly flights beginning 8th August, while the service between Doha and Prague will operate on a daily basis from 21st August. Both destinations will be operated by Qatar Airways' Airbus A320 aircraft.
Qatar Airways recently launched a direct daily service to Dublin, Republic of Ireland, as part of its rapid global expansion strategy, with service to Nice, France, from 4th July, and flights to Skopje, Republic of Macedonia, on 17th July.
The new Prague and Sohar routes will be served by an Airbus A320 aircraft featuring 12 seats in Business Class and 132 seats in Economy Class.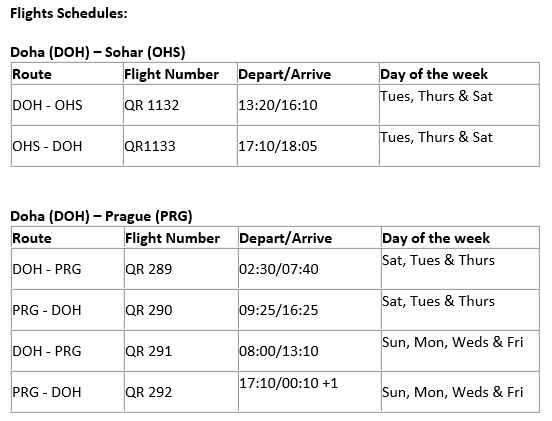 *As per Summer schedule.
Source: Qatar Airways