Written on 17th May 2018
Ryanair's Online Check-in Policy changes
Online check-in (for those customers who don't choose reserved seats) will be available from 48 hours to 2 hours pre-departure for all flights from Wednesday, 13th June. This is double the 24 hour check-in period operated by Aer Lingus, British Airways, Lufthansa, Norwegian and Iberia. This will give reserve seat customers more time to select their preferred seats prior to departure.
The Irish airline, which is the biggest budget carrier in Europe, is making life tougher for travellers who choose not to pay extra for assigned seating.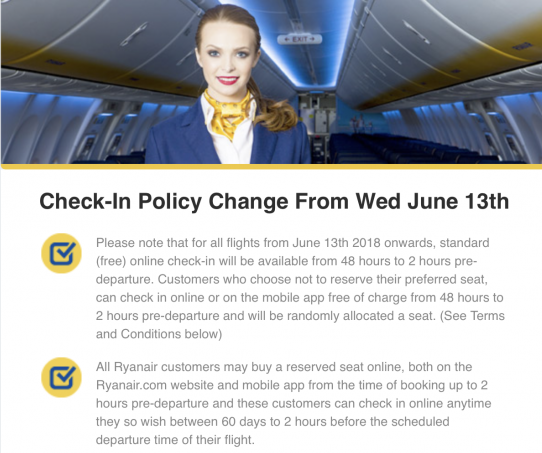 Passengers who arrive at the airport without having checked in online must pay a fee of £55 in the UK or €55 (£48) elsewhere.
Until two years ago, passengers could check in online up to a week before departure, which worked well for many people on seven-day holidays.
The new rule applies to existing and new bookings, although Ryanair has said that passengers booked to travel from 13th June onwards who have not paid for reserved seating are entitled to cancel their flights and request a full refund. This offer is only available until 19th May, however, "after which the change will be regarded as implicitly accepted," says the airline.
As Ryanair requires a paper boarding pass printed at home, or a virtual boarding pass downloaded onto passengers' phones, necessitating wifi, the change could prove problematic while abroad.
Here are some of the ways to avoid incurring further costs at check-in when you travel with Ryanair:
Download the Ryanair App
Ask your hotel to print off your boarding pass
Go old school & find an internet café
Bite the bullet & reserve a seat
Source: ryanair.com