Written on 3rd May 2018
TAG features on Buying Business Travel Top 50 TMCs list 2018
With a business travel gross sales of £170.6m in 2017, The Appointment Group(TAG) ranks number 16 in Buying Business Travel's guide to the top travel management companies in the UK – click here to see the full listings.
It's that time of the year when Buying Business Travel (BBT) magazine compiles an annual list of the Top 50 Leading TMCs in the UK.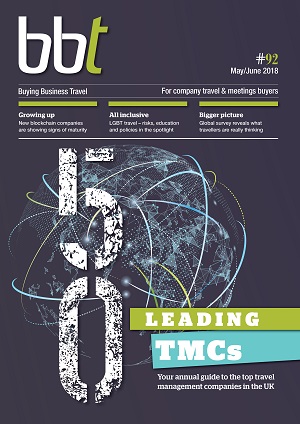 The Appointment Group also features in BBT's New Business chart, coming in at 8 out of the 10 TMCs listed, demonstrating a momentous year in which we processed more than 343,000 transactions.
Increased competition, direct booking with suppliers and the effect of the introduction of IATA's NDC are some of this year's main concerns. The annual survey also quizzes TMCs on their outlook for the year ahead, last year, one in nine expected growth of 5 per cent or less; this year that figure has dropped to one in twelve.
Regarding the targets for the future, two-thirds of TMCs expect growth to come from new customers. Winning new business is a priority, especially in areas outside transient business travel, such as meetings & events and executive leisure.