Written on 28th June 2018
US & Australia are implementing new restrictions on powders in carry-on
From June 30, the Australian Government is enforcing new limits on how much powder product you can pack in carry-on baggage on international flights and tougher screening at airport security.
The new rules will also apply to Australian domestic passengers departing from international terminals.
The US, Transportation Security Administration (TSA) announced it would begin introducing stricter security checks regarding powdered products such as cosmetics, protein powders, talcum powder and dried spices.
Passengers carrying more than 12 ounces (340 grams) of powdered products on international flights into the US are encouraged to place them in their check-in luggage to avoid additional screening or possibly having their luggage banned from the aircraft.
The Australian Government has since followed suit, though it appears to be making a distinction between "organic powders", which will not face restrictions, and "inorganic powders", which will be restricted.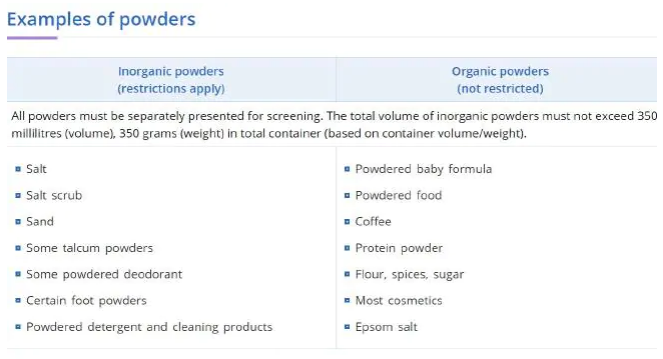 Passengers will be able to bring only up to 350 grams (12.3 ounces)/350 millilitres of inorganic powders total in their carry-on luggage when travelling on international flights as well as domestic flights departing from international terminals.
What's particularly worth noting here is that this limit is based on the weight and volume of the container, and not the actual amount of powdered product itself. All inorganic powders must be separately presented for screening.
This policy does not apply to flights departing from the United States or United States territories, as the TSA has already implemented enhanced procedures at their security checkpoints.
Source: aa.com