Written on 14th June 2018
Virgin Atlantic reveals £10m investment in new cabin design for A330-200 aircraft
Virgin Atlantic have unveiled brand new interiors for their fleet of A330-200 aircraft. The four aircraft will be retrofitted throughout with popular Premium cabin, along with a new look and feel for Upper Class and a refreshed look for Economy.
Due to roll out globally from November, customers travelling on the latest aircraft will be able to enjoy the full benefits of the award-winning Premium cabin. All 35 seats are set in a dedicated private cabin and offer a 38" seat pitch and a bespoke food and drink offering.
[caption id="attachment_23441" align="aligncenter" width="500"]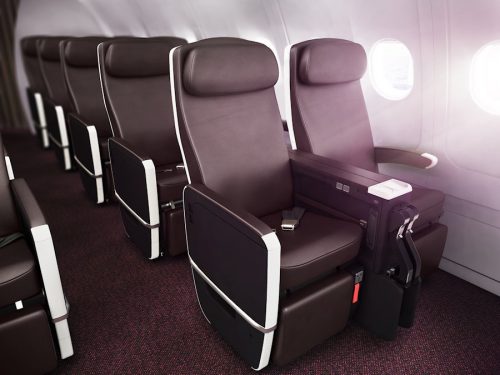 Premium Class seating[/caption]
Taking to the skies from November, Upper Class will enjoy a sleek new makeover, ahead of the A350's arrival in 2019, currently in development to set another industry standard for business class travel. Exclusive to the A330-200s, all Upper Class suites +will feature direct aisle access and enhanced surface area for additional personal space. The seat fabric has been entirely upholstered with natural and soft Espresso leather. Customers can continue to choose the perfect suite – including Love Suites, Corner Suites and Freedom Suites.
[gallery size="medium" ids="23442,23443,23461"]
Economy will also see additional touches of Virgin Atlantic famous style throughout the cabin. Seats will feature classic red and beige tones, along with brand new leather headrests. Each cabin will also see Black Cherry curtains and carpets, along with refreshed bathrooms, stylish mood lighting and wall finishes. Standard for Virgin Atlantic, all flights will offer high speed WiFi, power in every seat and the latest on board entertainment.
"Earlier this year, we acquired A330-200s to maintain our flying programme and were committed to refurbishing these aircraft to our high standards. We quickly gathered insights from our customers that have influenced the exciting product we're launching later this year" said Daniel Kerzner, Vice President of customer experience.
The A330-200s were introduced to Virgin Atlantic fleet in March to provide extra resilience in light of the global industry shortage of Trent 1000 engines, used on 787s. Whilst the number one priority was to ensure no customer journeys were impacted, steps were immediately put in place to guarantee the full Virgin Atlantic flair would be evident in every cabin.
Source: blog.virginatlantic.com