Written on 21st June 2017
The Warehouse Hotel Singapore - A meticulously-restored heritage building in Robertson Quay
What happens when a food and beverage powerhouse and the agency Asylum turn their attention to hotels? A Design hotel which evokes Singapore's rich spice trade history is born. The Warehouse is a marriage between modern day Singapore and a romantic bygone era which provides an industrial yet welcoming feel.
The Warehouse Hotel boasts 37 elegant rooms across six categories designed in muted tones with many offering double-high ceilings. With its signature triple-pitched roof, and original masonry walls, the rooms were designed to complement the building's existing layout, making each one different. The lobby bar and reception are ideal for relaxation and soaking up the vibrant atmosphere, while the rooftop infinity swimming pool overlooking the river provides a surprisingly calm escape amidst the urban landscape.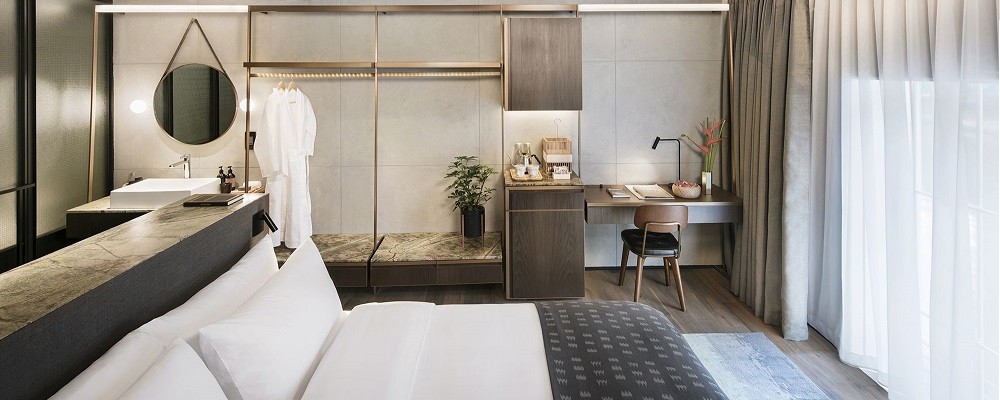 The entire culinary portfolio has been devised by highly-acclaimed Chef Willin Low who is Chef-Partner for the hotel's flagship restaurant, Po. As the founder of Wild Rocket - one of Asia's 50 Best Restaurants - the Mod-Sin pioneer has crafted a loving revival of the flavours of yesteryear and refined interpretations of local favourites using only the finest Asian ingredients exclusively for the property.
Not just a hotel, but an entire experience, The Warehouse Hotel is the one destination in Singapore where you want to get lost in the past but remain cutting edge at the same time.