Written on 17th September 2014
Luxury Hotel Spotlight: Banyan Tree Mayakoba
The Banyan Tree Hotels & Resorts brand came to life thirty years ago when the founders purchased a vast expanse of coastal land in Phuket, Thailand around lagoons of the most intense cobalt blue. Unfortunately, they later discovered that this striking color came from the pollution by the previous tenant, a tin mine, but rather than walk away they dedicated themselves to cleansing the acid-laden soil by planting more than 7,000 trees. In doing so, they transformed the ecological wasteland into the first environmentally sensitive Banyan Tree Resort in 1994.
The Banyan Tree Mayakoba is located along the pristine coast of the Riviera Maya and offers visitors a truly tropical retreat with unrivalled access to a beautiful coastline.
Resort
The epitome of luxury resort living, Banyan Tree Mayakoba elevates the Caribbean lifestyle to a new level. This all-pool villa resort allows guests to drift along in peace and enjoy a quiet retreat in a sanctuary for the senses.
Our directors at TAG were recently lucky enough to experience this peaceful sanctuary for themselves.
"As soon as you enter the Mayakoba compound and drive through the tree lined roads to the Banyan Tree hotel you get a sense of real wildlife and tranquillity," says The Appointment Group CEO and co-founder Maurice Veronique.
"The friendly welcome from a host of hotel staff including the very charismatic and charming Carlos Abaunza, the General Manager, makes you feel instantly at ease and relaxed. The resort is spread out over a vast area all connected by waterways and an intricate buggy path," continues Veronique.
Environment
The property is home to some of nature's greatest flora and fauna. For some family fun you can enjoy a day out with the kids on Riviera Maya's stunning coastline. You and your family can snorkel the beautiful waters of the Caribbean Sea and even end the day with a guided eco-adventure boat tour hosted by a nature specialist.
"From the moment you arrive at the resort you feel as if you've stepped into a Zen Palace environment. The lobby is built in such a way that you feel you're not in a hotel public area but in a special outdoor paradise," says Managing Director Byron Carr.
"Having beautiful scenery and architecture all around, and so much water, really helps to chill you out straight away. The staff's helpful approach and attention to detail is really refreshing, from everyone addressing you with your name to remembering your preferred drink the next day!"
Accommodations

The property has 118 elegantly designed private and tranquil villas. Each immersed in nature and featuring expansive living areas, plush furnishings, your own private pool and so much more. An intimate oasis surrounded by lagoons, mangroves, a PGA golf course and brilliant sugar sand beaches.
"Great rooms, great hotel, great stay," says Byron Carr.
Dining
Banyan Tree Mayakoba offers a fantastic assortment of uniquely superior dining experiences to suit all tastes. Whether you're in the mood for a champagne breakfast, a poolside barbecue, or candlelit dinner under the stars they have just what you need.
"The Beach Club and Sands restaurant is a favourite hangout during the day and the hotels' open air bars and restaurants make for a great al fresco experience in the evening," says Veronique.
With over 25 years experience, Executive Chef David Andrews is committed to excellence. His passion for sustainable culinary practices and locally sourced authentic cuisines inspire him to deliver only the highest quality with enthusiasm, dedication and consistency.
Banyan Tree guests are never confined to dining at set times. Whether you're celebrating a special occasion or just want to share some quality time alone, private meals can be arranged at any time in almost any location.
Golf
Put your skills to the test at the spectacular 18-hole championship golf course designed by renowned architect and PGA legend Greg Norman. El Camaleón is home to the only PGA Tour event in Latin America, the Mayakoba Golf Classic. The course winds through tropical jungle, dense mangroves and picturesque stretches of Caribbean sand.
"The golf course on the resort is considered to be the best in the area and offers a real challenge, so make sure you pack loads of balls," comments Veronique.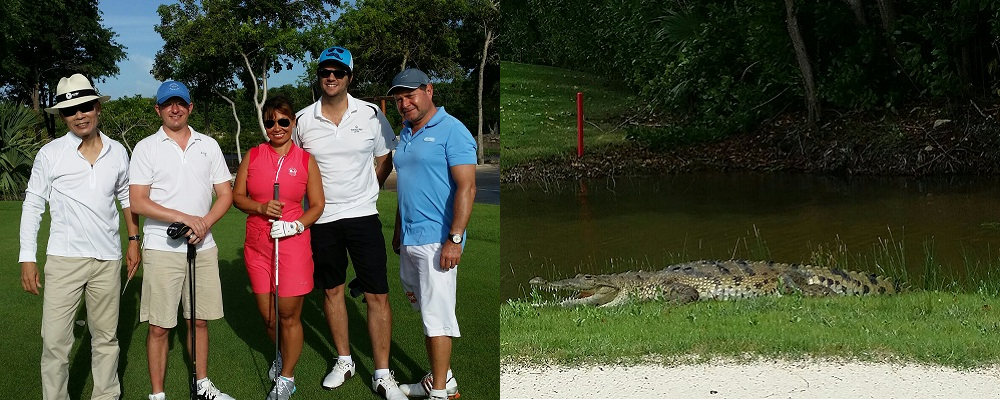 Leave it to TAG
Come and discover tranquillity, romance, and all the charms of Mexico complemented by Banyan Tree's touches of their signature Asian hospitality and warmth for yourself! It is so easy to get there with direct flights from New York, Miami, Los Angeles and San Francisco. Contact your dedicated Travel Executive today to begin planning your next leisure escape or peaceful getaway.
Get a fast track response for your enquiry
Please complete the following to get a call back from one of our travel experts.