Written on 2nd September 2019
TAG celebrates 31st anniversary with digital campaign, including an online competition
TAG, the award-winning travel and event management company, invites clients to celebrate its 31st anniversary during the month of September.
TAG is running a campaign on social media under #Happy31st, aimed at attracting and engaging both new and existing clients. The campaign consists of sharing elements of TAG's history, showing how both the brand and company have evolved.
Jodie Edwards-Locke, TAG Managing Director - UK, says: "Our 31st anniversary is a fantastic opportunity to remind people of TAG's long experience. It also allows us to enhance our social media presence and thank our new and existing clients with a dedicated campaign throughout the month."
In addition, TAG is running a competition on Instagram, where every Friday during September users are put to the test having to answer several questions about the company. The winner will be awarded with a £250 voucher to spend on rail, flights or a hotel stay.
Throughout the 31st anniversary month, online activations will also share the stories of 15 individuals that have been with the company the longest, and who have shaped and influenced TAG throughout its history.
Founded in 1988, TAG (formerly known as The Appointment Group) has grown to become one of the world's leading travel and event management companies. With ten global offices across four continents, TAG has established itself as a high-end, service-driven company, committed to meeting the needs of a diverse marketplace through its five specialist divisions - Corporate, Touring, Events, Film and Media and Private Travel.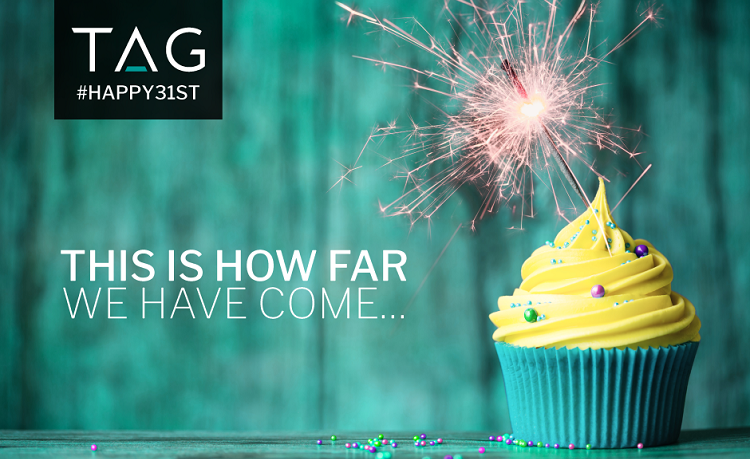 TAG 31st anniversary – Instagram story terms and conditions
To enter the competition, entrants need to correctly answer on the appropriate Instagram Stories and follow TAG's Instagram account (@TAG_Grp). Entries will be made by answering one of the 3x options on the Instagram story quiz feature.
The competition opens at 12pm on 06/09/19 and closes at 12pm on 27/09/19 (GMT).
1x winner will be chosen to win 1x Private Travel gift voucher.
Entrants must be 18 years or over.
No purchase is necessary.
Winner(s) will be selected at random.
The winner(s) will be notified by TAG through an Instagram direct message after the competition closes.
By entering this competition, you are giving TAG consent to contact you (for the purpose of the competition).
TAG will contact the winner with a deadline for responding with information. If the original winner cannot be contacted within 24 hours from the first correspondence, TAG will reallocate their prize to an alternative winner selected at the same time and by the same means as the original.
If a winner is unable to accept the prize, TAG reserves the right to award the prize to an alternative winner, drawn in accordance with these terms and conditions.
Prizes cannot be exchanged or refunded and there is no cash alternative. The prize is non-transferrable.
The competition is open to all except TAG employees.
The winner must have submitted their entry themselves.
TAG bears no responsibility for any entry which is incorrectly submitted, lost, damaged, incomplete or received after the closing time.
We reserve the right to disqualify or not award a prize to an entrant whose entry we believe be inappropriate, fraudulent or based on misconduct.
Name of the prize winner(s) will be available on request.
All entrants to competitions are deemed to have accepted these rules and agree to be bound by them.
This competition is run through TAG only and it is not sponsored by any social media platforms.
TAG or any other third-party, will not use any personal data from any entrant in the competition for marketing purposes.